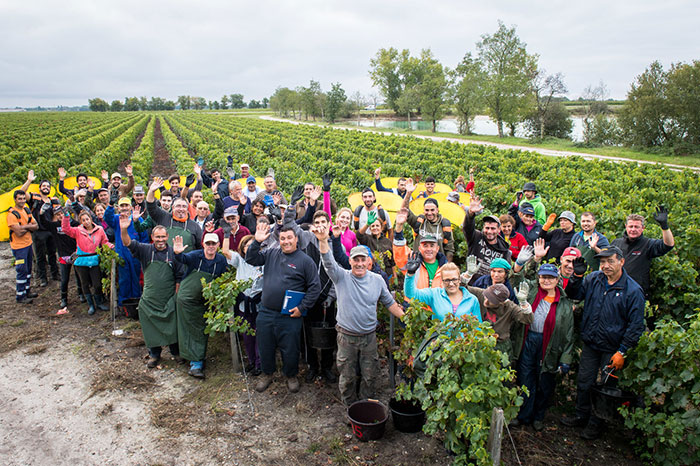 For the second year running, João Tito and his team of about 50 pickers travelled over 800 km from the city of Mirandela in northern Portugal to reach Pauillac, where our Lynch-Bages vineyards stretch over the land.
From a distance, you would have seen heads bent over rows of vines, backs hunching as baskets were filled, eyes trained on sorting tables. On approaching you would have heard laughter, the odd "cuidado!", and maybe a song. A group of men and women ranging in age from 18 to 68, from different walks of life, brought together this year, during the period from18th September and 5th October, when harvest was finished.

In their hometown, they are plumbers, students, bricklayers, bakers and psychologists, some are retired.
In the vineyard they form an organised group sharing tasks, forty pickers filling the baskets of ten carriers, taking it in turns to pour their harvest out onto the sorting table.
Franck is delighted with how it all went. "We worked methodically and efficiently, respecting each other's sensitivities, and in contagious good humour," he said.
Although conscientious and committed, all admit that harvesting is a rapid source of aches and pains, but they lost neither their motivation nor their momentum. According to Deolinda, the eldest woman in the group, grape harvests are nothing compared to strawberry picking. And the 60-year-old should know what she's talking about, because she harvests olives, strawberries, almonds and chestnuts all year round. Others speak of the need for common sense and for a little inside knowledge, for example adding small cushions to the baskets relieves the backs and shoulders of carriers.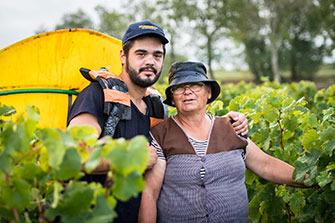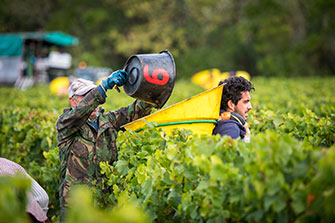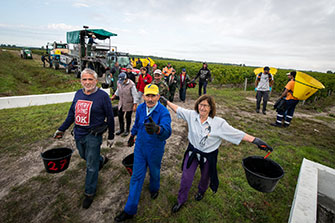 This year again, all poured their energy into helping us with these first stages of our 2017 vintage. And when the harvest finally came to an end, we had just one wish... that we would see them all again next September!