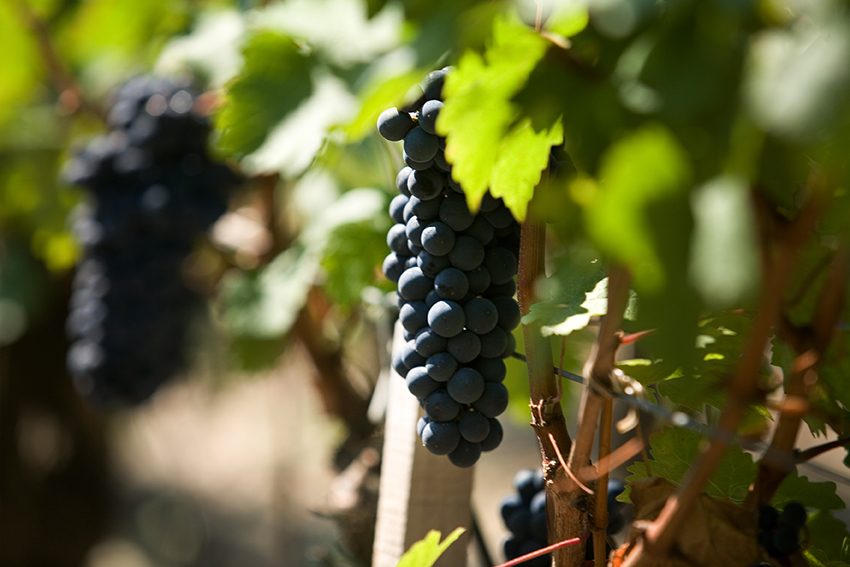 "If 6 was 9"...
Easy Rider - Jimi Hendrix
The 2016 vintage was one of exceptional weather conditions: a dry, mild start to the winter, a very wet first week of the year followed by a wet and chilly spring and a hot, dry summer.
An Unsettled year of contrasts
There was abundant rain from January to March, with temperatures remaining mild compared to the average over the last few years. This saturated the ground and prompted the buds to develop relatively early. Following the chilliness and damp of April and May, the vineyard escaped the frosts but required special care to avoid the development of mildew, which was spotted on the most susceptible plots. The first fortnight of June was hot and dry, allowing flowering to take place. The end of June saw some rainy spells, after which the summer temperatures set in. Sunshine was to be a major factor throughout the season. Although the hot spikes helped prevent the development of vegetal aromas, the first signs of drought were anticipated in August. These were avoided, however, thanks to a good reserve of water in the vineyard's clayey subsoils
Quality guaranteed by the Indian Summer
In early September, the rains arrived just in time to rekindle a sweet and high-quality - if rather belated - maturation. With cool nights and milder days, the autumn weather conditions fostered a complete ripening and a stable and perfect sanitary state. Harvesting began on 28 September, with a crop of extremely healthy and high-quality grapes.
An abundant and promising vintage
As in 2009, harvesting ended on 12 October and this one was also particularly promising: the berries were small and naturally concentrated with juice possessing good acidity, and displayed the highest level of tannins ever achieved so far. Displaying intense colour, very crisp fruity aromas, acidity, and very powerful yet velvety tannins, this is a great vintage.