A story of journeys, a story of the Médoc
Owners of the Château Lynch-Bages since 1939, over the generations, the Cazes family has spread its viticultural wings and developed a model brand of tourism that is steeped in a tradition of hospitality. From the Ariège mountains to the vineyards of the Mèdoc and elsewhere, the story is about journeys.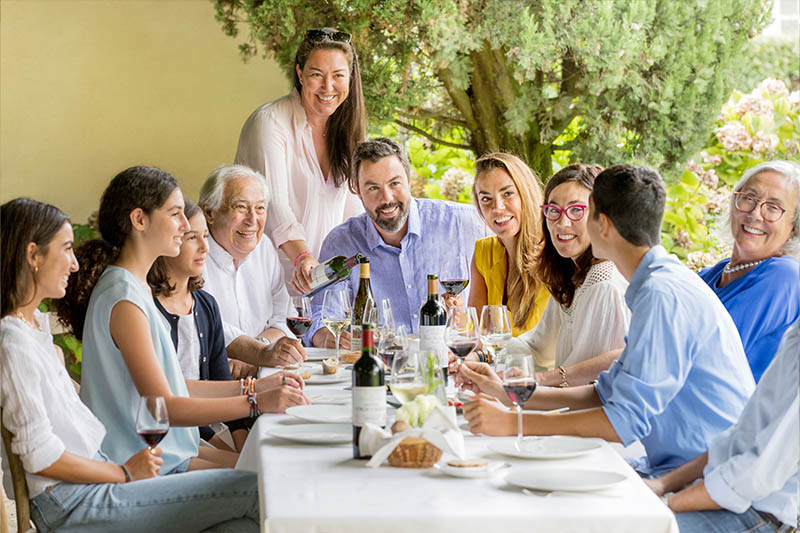 A common surname throughout the south of France, Cazes originates from the word "casa", meaning "house". It's a name of travellers and emigrants. Like many others, the Cazes-family laborers from the Ariège region of southwest France left their mountains in 1875 and set up home in the Médoc. Starting as a baker in Pauillac, Jean-Charles Cazes, took charge of Lynch-Bages in 1939.
First steps into wine making
Jean-Charles Cazes crafted a wine that rapidly gained recognition. André Cazes, the youngest of his 4 sons, was studying Law. But he was dragged into the turmoil of the Second World War. Taken prisoner, he didn't make his way back to Pauillac until after the Allied victory. Here, he went into Insurance. It was not until the 1960s that he took back the reins of the property. And like his father before him, his influence was decisive. He regenerated and expanded the vineyard, which attained almost 100 hectares at the end of the 1990s.
A new cosmopolitan generation
After his studies in engineering, André's son Jean-Michel returned to Pauillac in 1973. He was accompanied by his Portuguese wife Thereza whose family came originally from Mozambique. Their marriage, officiated in Pauillac by André Cazes – at that time the mayor of the commune – was the building block of a family that became increasingly cosmopolitan. Their three Paris-born daughters, Kinou, Marina and Catherine, were soon joined by Jean-Charles, who made his entrance in Bordeaux shortly after their arrival. This family history is traced in the book Lynch-Bages & Co., a family, a wine and 52 recipes.