November 2017
In 1989, Jean-Michel Cazes, owner of Château Lynch-Bages and a contemporary art lover, was seeking a parallel to portray the finesse and elegance of his wine. When he discovered the works of Pierre Alechinsky, he asked him to depict this magnificent vintage.
And so "Lynch-Bages as seen by… Alechinsky" was born...
Since then, a succession of great artists has found inspiration in the diversity and subtlety of the wines of Lynch-Bages.
The passage of time has seen the creation of an outstanding collection of works of art: Jean Le Gac, Arroyo, Sandro Chia, Titus Carmel, Donald Lipski, Jiri Kolar, Tan Swie Hian, James Brown, Hervé Di Rosa, Günther Förg, Ryan Mendoza, Emilio Perez, Arnulf Rainer, Paul Rebeyrolle, and Antoni Tàpies…
Until Lynch-Bages launched its renovation project earlier this year, the whitewashed walls of the ancient vat-house provided the perfect backdrop for these exhibitions.
1989 was also a landmark year for Cordeillan-Bages, when they it became the only Relais & Châteaux in the Médoc. A veritable haven of peace incorporating gastronomy, wine and the world of culture: the core of the promotion of an "art de vivre" that the Cazes family wishes to share with visitors from all over the world..
A visit to Cordeillan-Bages offers the chance to admire works from exhibitions staged at Lynch-Bages in tandem with the Galerie Lelong in Paris.
Pierre Alechinsky:
In 2001, Lynch-Bages hosted the first Alechinsky exhibition titled "Mémoire volatile".
In 2014, Lynch-Bages offered its visitors a selection of important works by the artist
Pierre Alechinsky was born in Brussels in 1927. Whimsical and non-conformist, Alechinsky's work is characterised by a freedom of inspiration and writing. His pictures are populated by strange beasts, creatures that are half-fantasy-half-naïve, or the odd plant. Gazing at his work, we discover to our delight that painting sometimes is a thing of magic…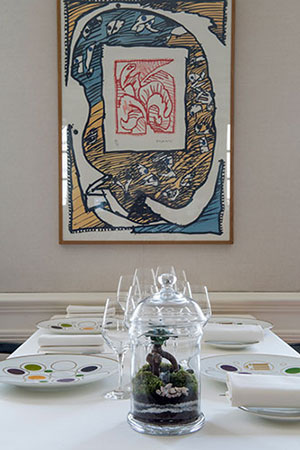 Chicago (lithographie) - 1991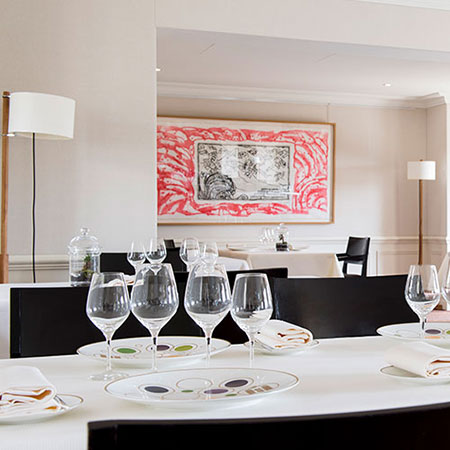 Mémoire volatile - 1990
Antoni Tàpies :
"If I can't change the world, at least I want to change the way people look at it" said the Catalan painter Antoni Tàpies… In 2002, Lynch-Bages had the great honor to present "Poetic of Things" an exhibition featuring his artworks with unconventional materials such as marble dust, ground chalk, sand and earth.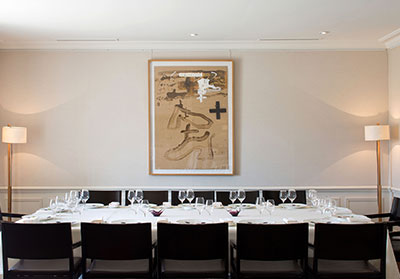 Vernis et collage - 1988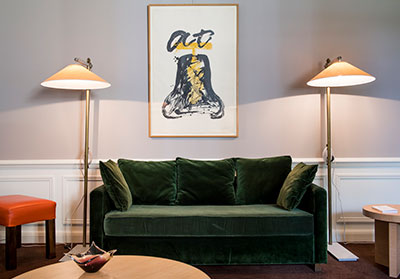 La cloche tibétaine (lithographie) - 1991
Jean Le Gac :
En 2003, Château Lynch-Bages welcomes a series of large format paintings of the artist on the occasion of an exhibition titled "Délassements & Génies" .

Jean Le Gac was born in 1936 in Alès in the Gard region of France. His recurrent theme - the tribulations of a painter - unfolds between fiction and confession, between painting and literature, at the junction of so-called minor genres. In this way, he renews the principle of illustration, the novelistic verve and images of serial novels.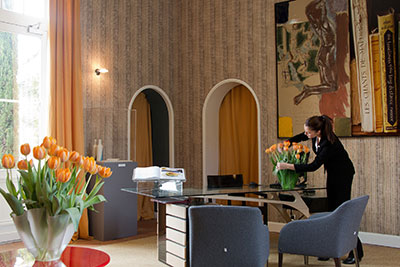 Les grandes vacances ou le prisonnier - 1992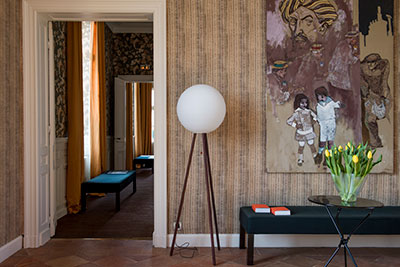 Le peintre nocturne - 1988-1990
Emilio Perez :
In 2012, Lynch-Bages had the great pleasure of welcoming the dynamic compositions of abstract artist Emilio Perez in the cellars. A beautiful series of artworks influenced by the rythm of music and the movement of the ocean. An artwork full of energy that can be seen at the restaurant of Cordeillan-Bages.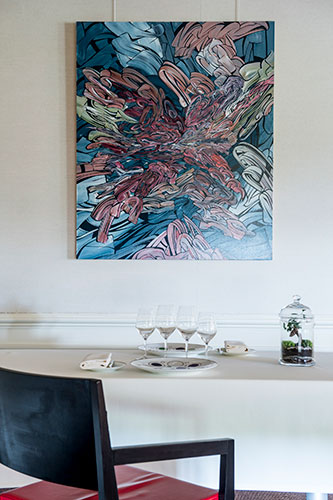 Nowhere you've been - 2011