18 september 2017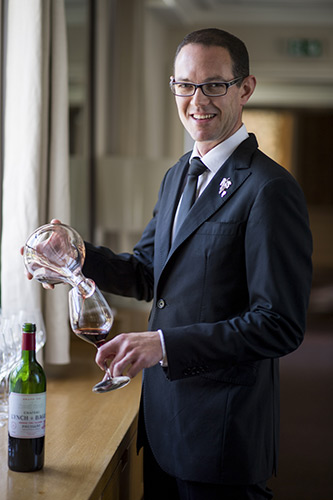 Chef Sommelier, Arnaux Le Saux
A native of Nantes, Arnaud Le Saux fell in love with wine while attending hotel management school.
« I did not know much about wine, I took an extra course on the topic, visited wineries, met producers, and never looked back ».
Since 2013, he is the head sommelier at Cordeillan-Bages. He designs the wine list for visitors who wish to discover the Bordeaux wine region.
With a wine-list of over 1,500 references, he offers Bordeaux Grands Crus, as well as a very fine collection of wines from elsewhere.
« I adapt to guests' tastes, and always hold a selection of wines that I especially recommend. »
According to this wine lover, « a good wine is one that you want to savour again once you have finished your glass and a great wine produces a special emotion, and leaves a lasting impression ».
Attentive, always ready to explain wine in simple terms, and to talk to winemakers who he meets on a regular basis, Arnaud le Saux also creates food and wine matching in harmony with the Chef Julien Lefebvre: « A good food and wine match is based on balance. The wine must not alter the taste of the dish and the dish must not overpower the wine ».
Thanks to his expertise, the restaurant was selected finalist in the 2017 Tour des Cartes competition for the "Luxury Hotels and Michelin-starred Restaurants" category.