May 2017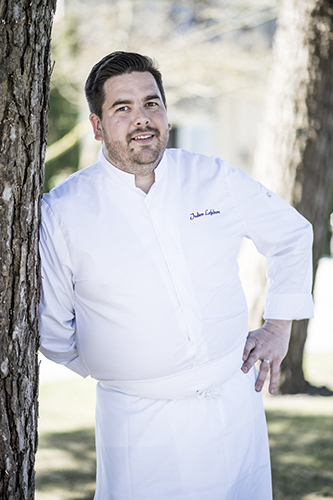 Julien Lefebvre
Julien Lefebvre is grateful for his childhood in Normandy, inspired by the artisans of his family deeply rooted in the food-producing region where he found his calling.
Trained by Frédéric Anton at Le Pré Catelan, he pursued his prestigious career alongside Mathieu Pacaud at the Parisian restaurants Hexagone, Histoires and the recently reopened Le Divellec.
At 35, he has become the new Executive Chef at Cordeillan-Bages, in charge of the fine-dining restaurant and of the bistro Café Lavinal in the village of Bages.
Strongly committed to promoting the labor of local producers, he set out to meet them, to explore local ingredients and discover their gastronomic treasures (caviar from Aquitaine, white asparagus and strawberries from Saint-Laurent-Médoc, and oysters from the Bay of Arcachon). His menu at Cordeillan-Bages covers shellfish marinières, whipped cauliflower cream, contemporary soufflé with clams and curry, Venere rice with grape marc; confit turbot, pea Gibelotte, coriander decoction, Tempura barbell and Béarnaise sauce or braised sweetbread in a buckwheat crust, Jerusalem artichoke mousseline and jus gras flavoured with Arabica coffee.
A new menu to savour at the earliest opportunity.