The cat who saved Lynch-Bages
22 september 2017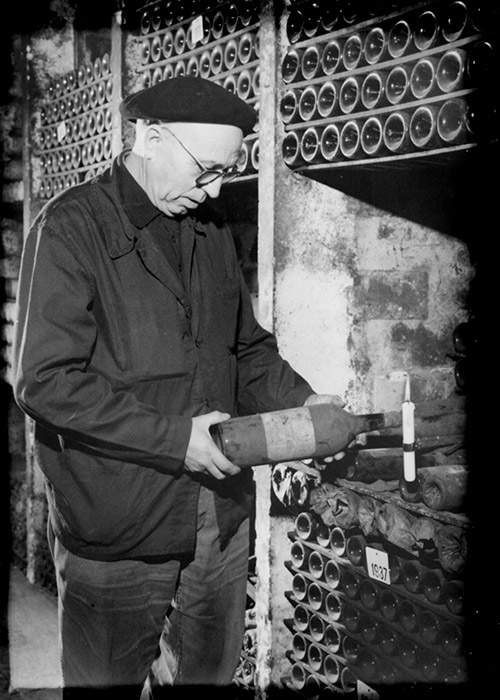 Roger Mau
Most Médoc cellars have been frequented at one time or another by cats. Their very presence was enough to keep rats and mice at bay. Lynch-Bages was no exception. At one time, cellar master Roger Mau jealously guarded a cat who had taken up residence in its cellars. We'd bump into him from time to time in one of the many hallways, where he used to prowl. He had no name, and simply became "Le chat de Monsieur Mau". Every day he'd receive a plate of milk, served by the cellar master beneath the wooden vats in the fermentation cellar. Roger Mau assumed the task throughout the week. And he'd return to look after his cat at the weekend, when the cellars were otherwise deserted.
One Saturday morning, in 1975, Roger Mau made his way to the fermenting room as usual armed with his milk churn. No sooner had he entered the room than a smell attracted his attention. When he looked up, he could see smoke filtering through the slatted floor. It was coming from above. Mr Mau rushed up the stairs and saw flames reaching about twenty centimetres at the top of the sixth vat in the middle on the left, licking the top three feet of its upper section near the hatch. The cellar master wasted no time and filled a bucket with water from the nearby tap, easily extinguishing the fire just as it was beginning.
What had happened? The day before, he'd issued instructions to "sulphur" the vat. This involves burning a sulphur wick inside the vat to release sulphur dioxide, which acts as an antiseptic and disinfects the wood. Normally, the wick, which is attached to a 25-cm long wire hook, is hung at a reasonable distance from the vat wall, just like in barrels, in order to avoid any accidents. Because sulphur produces very small flames when it burns, there is a reasonably low risk of fire spreading over the wood. Unfortunately, the person who performed the task late Friday afternoon had hung the wire on the edge of the hatch closest to the wall. The incandescent wick was therefore in contact with the vat's wooden staves throughout the night. Fortunately, the fire hadn't started immediately but had been smouldering all night. When the wood finally caught fire, early Saturday morning, it coincided with the time when the cat usually took his breakfast.
Because there were no employees on the premises, which is quite normal for a Saturday, there is no doubt in anyone's mind that if Roger Mau had not brought his cat his morning plate of milk the fire would have spread rapidly. And there would be nothing left of our historic Lynch-Bages fermentation cellar. It is even likely that the fire would have spread beyond the fermenting room, which at the time communicated directly with the barrel cellars and the chateau itself.
So in our new facilities we should be thinking of erecting a small monument in memory of "Le chat de Monsieur Mau"!

- Jean Michel-Cazes, 22 September 2017 -