Training at Lynch-Bages
November 2015
The technical team headed by Nicolas Labenne has four new members: Angélique, Zoe, Carlo and Alexis. Some have arrived from other regions in France, others from as far afield as Italy and China, but all are currently receiving training of between six months and three years at Château Lynch-Bages, immersing themselves in the life of a Grand Cru and working on cutting-edge innovations. Each has their own story.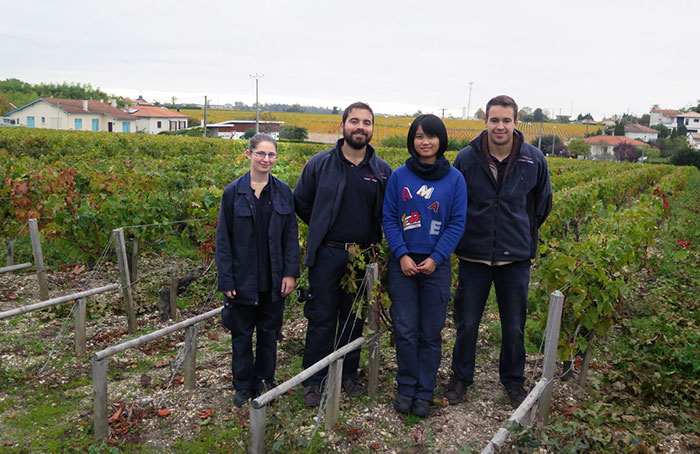 Angélique from the Auvergne in France, and Carlo, from Taurasi near Naples in Italy, are both students at the ISVV (Institute of Vine and Wine Sciences) in Bordeaux, where they are preparing their national diploma in oenology (DNO). After arriving at Château Lynch-Bages in June 2015, they tried their hand at viticulture until August. They will now spend the next few months, until December, getting to grips with their future profession: oenology.
Alexis, a BTS student at EVO (La Tour Blanche School of Viticulture and Oenology) in Bommes, in Gironde, will work with the team part-time for three years. He specialises in precision viticulture, and in particular geolocation (see our Geolocated fertilisation, a precision viticulture technique" article).
Zoe has come from the NorthWest A&F University (A&F pour Agriculture and Forestry), a reputed establishment in the Chinese province of Xian, for an immersion course in the French vineyard.
Choosing the right training topic
"Care must be taken when choosing the focus of the training," says Nicolas. "We get together at the beginning with the students and their tutor to choose a focus according to not only study programmes but also technical challenges, innovation ideas and the means needed to implement them".
Carlo chose to devote his time to the vinification of white grapes, studying both the influence of turbidity* on aromatic typicity and how temperature influences fermentation in barrels. Angélique is studying the potential of a native yeast strain.
Regarding the whites, Carlo and his training supervisor have set clear objectives: to improve aromatic expression and prevent premature ageing in bottles. As for the reds, and more specifically Cabernet Sauvignon, the aim is to achieve greater typicity, greater local character. For this last research topic, headed by Angélique, the technical team has created replicas, with small stainless steel vats at Lynch-Bages and Château Ormes de Pez. "ISVV is also providing analytical support, with the help of professors" , says technical director Nicolas Labenne.
* the matter content of a fluid, which makes it cloudy, and its ability to disseminate or absorb incident light.
Presenting their work to the team
Trainees at Lynch-Bages become full-fledged members of the team, involved in all aspects of our work. "They are also faced with decision-making", says Nicolas, who entrusts the trainees with tasks that "allow us to move forward."
At the end of their training, the students prepare a thesis detailing their experiments that they must present orally. Nicolas is a member of the jury, -"although not for our interns", he says. This oral presentation does not mark the end of the experience, however. "I always ask them to come back and see us, to present their thesis again like they did to get their diploma, but this time to all the team members they worked with. It's always a friendly and informative moment!"
Based on the work of Angélique, Zoe, Carlo, Alexis, as well as Geoffrey from the Champagne region and Lisa from Denmark before them, we can safely say that the Lynch-Bages 2015 vintage of trainees holds great promise. Next year, Nicolas Labenne and his technical team will again welcome between four and six new enthusiasts, and they will mature together.
What they think of their training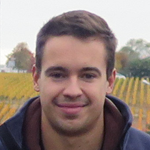 Alexis: "My parents work the vine and I've had a passion for it since I was young.
I was taught that every great wine is the result of hard work carried out as a family.
Today, at Château Lynch-Bages, I've rediscovered this family spirit, which I think is important in my job."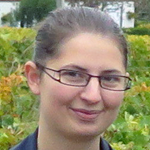 Angélique:"I'm glad I chose Château Lynch-Bages for my training
because I'm learning to make great wine with a fantastic team possessing the know-how
and educational skills needed to ensure we always feel at home."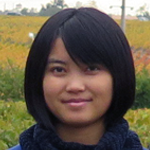 Zoe: "How to express my feeling about Château Lynch-Bages?
I have to say, everytime when I stand on the road with trees which is in
front of the chateau, it's breezing, the words in my mind are: "sans toi les émotions
d'aujourd'hui ne seraient que la peau morte des émotions d'autrefois."
My experience here is absolutely unforgettable and amazing! »*In reference to the film The Fabulous Destiny of Amélie Poulain. You can see the scene in French below: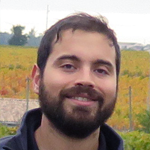 Carlo: "This experience has given me an all-round view of the production process and helped me fully understand the philosophy and elegance of this great Pauillac.
Thanks to the technical team's responsiveness, to their advice and explanations,
I now fully understand all the work that goes into a fine bottle of wine.
All this in the company of friendly and open-minded people. I couldn't have hoped for better!"